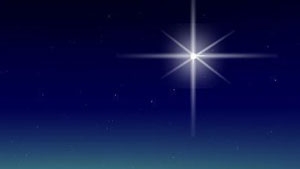 For just a few moments
my wish for you this evening
is that each of you had a rocking chair
and we had a just right fireplace right here
with a just right assembly of logs
burning just right
the warmth of the fire on your face
the coolness of the room behind you
the day is winding down
Step back with me now
through the ages, the people of the Bible
Abraham and Sarah,
the patriarchs and their spouses
years and generations passing
and now it's a quiet night in Israel
The humidity is low as usual
and the night air is cold
The sky is sharp and clear
shepherds are watching a star
an unusual, very very bright star
light is flooding down to earth almost like daylight
the star seems to be beckoning them, so they follow it
Those who wonder can wonder about just how
a loving God could reach down to earth
touch his created in a way that would open eyes
open minds, and be a lasting gift
A gift foretold
a gift that was coming
The Light of the World came down
A baby
that's the answer!
A dependent little fella
needing the care of his mom and dad
the connection to all people on earth
I've traveled to 6 of the seven continents
and it is true – with my own eyes I've seen it
the care of a mother and father for their baby….
There is no better connection on earth….
So there that night in Bethlehem
a baby's first cry rang out
Now across two thousand years
we can still make that connection
We can come to Jesus
O come, let us adore Him!
O come, let us adore Him,
Christ the Lord!
Lin Christmas Eve 2010
*Silent Night, Holy Night, Stille Nacht, Joseph Mohr, Franz Gruber
139