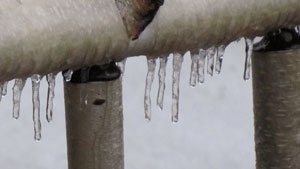 Welcome to the Arctic!
and you didn't even leave home!
Down, down, down comes
the sub zero blanket of air
freezing all it can
Soil, rock hard
snow, crunching cold
"Crack!" noises here and there
as materials contract, shrinking
We bundle up
and just keep going
hindered, modified
trudging to the barn
early morning darkness
Why don't birds feet freeze?
How can the cow udders be so warm?
How can hairless pigs survive?
Chop! Chop! Chop!
The horse tank's frozen over
8 inches of ice now covering
and the cattle are thirsty, of course.
Pieces of ice sting my face
propelled by the ax impact.
I throw some chunks aside, stepping back
to let the cattle drink.
I turn the valve, and the windmill pumps
warm water flows, 50 degrees down deep
Settling on the milking stool
I tilt in
my forehead warmed by Bessie's flank
my cold fingers squeeze out milk
Grandpa's doing the same
the 'squirt, squirt squrit'
of our rythmic milking, the only sound
The udders empty
and we carry our steaming milk buckets
across the barnlot to the house
We'll return
to grind feed, check the cattle
throw down straw
think of spring!
Selah, Lin, minus 3, windchill worse January 2015; January 1948
308