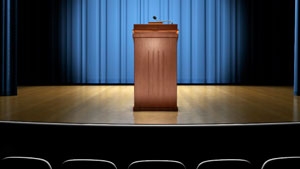 The president moved amongst the crowd
"Helloing' here and there.
Handshakes, smiles, friendly comments,
a welcoming on all sides.
Up two steps to the speakers platform
stepping up to the podium, the mike,
he looked out upon the moving sea
listened to the voices
watched the people moving, mixing
These folks like each other!
"Good evening!"
spoken once
spoken twice
a few folks find their seats
but the waves continue
greetings abounding
The president studied some more
and saw, it was good:
These folks enjoy each other!
Farm leaders and spouses
people who've risen tall
carrying the ball in many ways
plays writ out large in lives lived well
living well
Tested by storms and drought
floods and markets
government kerfluffles
the vagaries of life
they've taken their blows
and risen
Compounded, winner after winner,
selected by peers,
the News Gazette brings them together
to add another, once a year
Forty years coming
people with faces gather
honoring each other and a new one
comfortable in who they are
Finally, they're all seated
and the program begins
Recognitions, a video
and the honoree speech
Well done,
good and faith full servant
The News-Gazette!
It works!
Lin 4/2012 Farm Leader of the Year Award Banquet
174