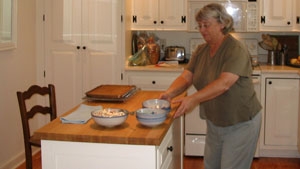 In every nook and cranny
a particular pair of hands
turn a house into a home
You can guess whose hands!
 
I've watched them in the kitchen
hands on fine china
confident, touching with memories
of her mom or Gammy
toweling that precious bowl
The same hands wield a knife
chopping or shaping something just so
Ah, yes, they can stir a pot!
Or whip some cream
or roll out a crust for an awesome pie!
 
I've them in the sewing room
guiding a seam, making a garment
with love sewn in stitch by stitch
Those hands smooth a fabric
just so, to make it right,
for ironing or marking or cutting cloth.
I've seen them hold a slippery babe
lathered with soap the little crittur,
all wiggles,
but safe in mother's hands
 
Sure hands, are they,
reaching out for my hand
linking us in communion, oneness,
in our walk down life's highways
 
The spiritual claims, quite rightly,
"He's got the whole world, in His hands,
Okay, but I'm thinkin', one fine picture
of sure hands,
belong, quite rightly,
to the Lady of the House!
 
Lin, 11/2012
to Kay, 50 years down life's highway together 
206