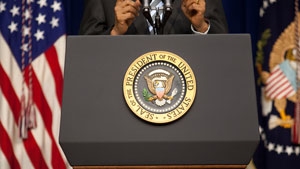 Who, would you think
is the most powerful person on earth?
Some might say 'The President'.
 
Yes, he is 'Commander in Chief'
but in that role
the Generals and Admirals
know so much more
Even the sargeants do too!
The President comes along later
far from the jeeps in the desert
far from the ships at sea
 
Indeed he sits with Congress
and the Courts
to push his agenda forward
but oh, so many limits
so many strings
not there for him or her to pull.
 
I submit the President
is in fact carried along
by events not chosen
not really controlled on earth.
Ride along with me
out in the country
where buffalo used to roam
sit at the family table
with the farmer, the agronomist, the teacher
put your feet under the table
as the family shares the day
 
This, is still, the
astonishing rich soil of America!
Indeed!
 
A place of intelligence
focus
passion
and compassion. 
 
That's where you and I live,
far from the marble and concrete
of government.
Here cows don't give milk
somebody has to take it from them!
Nor does the soil magically yield fruit
somebody has to till and plant, tend and harvest
Engineers dream and build machines
that move the world.
 
Selah,
Lin 5/2013 
 
223