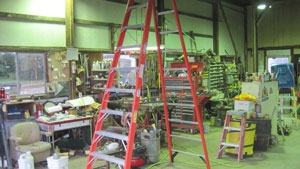 Sometimes things don't work
presenting a great adventure!
Jump on the problem!
Be a grizzly bear!
make it right right now!
 
Sometimes that doesn't work!
Try, and try again
and still it's just not right
and you know it
 
On the phone again
and again
try this, try that
think
 
Along comes a fella
a thinker type
He studies the problem
reads the problem
Gets inside it, with fresh eyes
 
'I think it's ______," says he.
Order parts, wait.
Parts come in, put 'em on.
Voila!
Fixed right!
What a bit of happiness!
Sail along freely
Machine humming, farmer humming
"Oh what a beautiful morning!"  
On through the day
on into night
good lights shining brightly
neighbors out too
Ah, flashers galore going down the road
Somebody's heading for the barn
Careful!  Slow moving vehicle
Big, wide and long  
Great to be a farmer!  One more round towards victory! Lin    
Selah, harvest, 2014
269