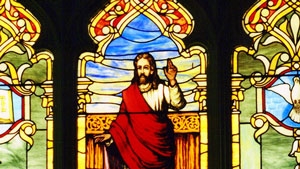 Chores done, early morning,
Me 'n Grandpa are in the house
Basement, actually
Shiverin' cold out in the barn
'cept for the cow's warm teats
But the huge coal furnace
wafted warmth all over the basement
toasting us before and after the shower
Sunday morning, routine as usual
church
Grandpa puttin on his blue suit
suspendered pants, but with a belt
uniform for church
Grandma all ready
colorful dress, perfume
ker choo!
My nose didn't like perfume!
In the car
me drivin'
11 years old
but experienced
at 4 and 5 I earned my wings
settin' on Grandpa's lap
steering tractors and the big truck
By 7 I reached the pedals
Big guy now! Well, sorta!
But never a cause for worry
Grandpa gave me the reins
So by 11, no big deal,
my drivin' two miles to church!
Inside, the stained glass windows impressed-
what could those have cost?
Neighbor Salsbury paid the price'
for us to enjoy the art
the big pendulum clock, ticked away,
counting the seconds in that hour.
Assigned seats
I could find in the dark
eyes shut!
I knew where everyone parked
can still see their faces
Good, solid folk, farmin' mostly
a banker and university folk exceptions
After church the Sunday dinner
Grandma at her best!
Fried chicken, mashed potatoes n gravy
corn and green beans and fruit from jars
Then the nap.
Me 'n Grandpa on the floor
living room thick carpet
snoozing away for a little bit
waking to do the chores
Yup! Me 'n Grandpa
living high
together
what a life!
Lin, remembering Sunday on the farm. Decembers past
295